GBPI Oxygen Permeabililty Tester Y210 working principle

GBPI Oxygen Permeation Analyzer Adopt Coulometric sensor method. Fix the test sample in the middle of test chamber to separate the chamber into upper room and lower room. When oxygen flows in upper room and nitrogen in lower room, the oxygen molecules penetrate through the sample into the lower room, and coulometry sensor system detect and analyze the oxygen content and calculate the oxygen transmission rate. To test container, oxygen is outside and nitrogen is inside of the container.
What type of packaging material can be tested by our Y210 Oxygen Permeability Analyzer
Oxygen Transmission Rate (OTR) Tester Applied to:
1) Plastic film, composite film, aluminum foil, aluminized film,etc;
2) Sheet, panel, rubber, ceramics,etc;
3) Packaging containers, such as:glass, bottle, cans, boxes, etc;
4) Expanding application: solar panel, LCD film, medical patch, etc.
Widely used in quality inspection organizations, drug control institutions, research institutes, packaging, thin film, food companies, pharmaceutical enterprises, personal care industry, electronics industry and so on.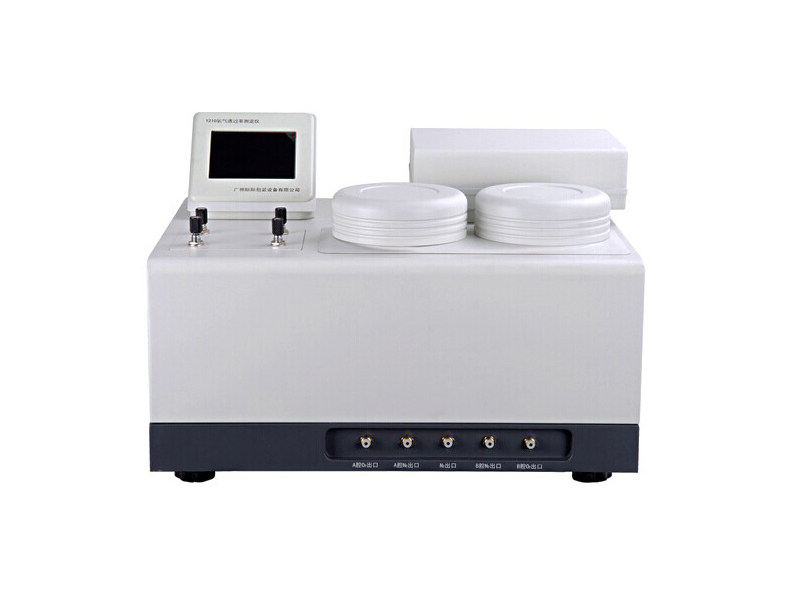 Features of Y210 Oxygen Transmission Rate Tester
1. Temperature control: International advanced electromagnetic technology, program controlled, without external accessories. Precision 0.1°C.
2. Humidity control: Two-way gas flow method, with broad range, high precision and stable flow.
3. Standard gas calibration and standard film calibration.
4. Y210 Water Permeability Analyzer can auto judgment and auto stop.
5. Leakage protection; over range protection; auto save data when power is cut off; incorrect operation warning.
6. Wholly automatic, software easy to use. Curves of transmission rate, oxygen density, humidity and temperature, auto record and continuous display. Can monitor interaction of parameters and the whole testing process.
7. Highly modularized. Setting, testing, baseline, calibration, report etc are independent. Powerful data analysis. Easy to operate.
8. Built-in computer, can work without external computer.
9. Support quick test, applicable to evaluation test.
10. Two chambers can work independently at the same time for two different samples.
Technical Parameters of Y210 Oxygen Permeation Analyzer:
| | |
| --- | --- |
| Test range | 0.02 ~ 16500 cm3/m2·24h (film), max 260000 cm3/m2·24h |
| Test accuracy | 0.001 cm3/(m2·24h) |
| Temperature range | 15°C~45°C (5°C~50°C optional) |
| Temperature accuracy | ±0.1°C |
| Humidity range | 0%RH, 30~90%RH, 100%RH |
| Humidity accuracy | ±1%RH |
| Gas supply pressure | 0.1~0.2MPa |
| Environment temperature | 23°C |
| Sample size | Φ100mm |
| Test area | 50.24cm2 |
| Sample thickness | ≤ 2mm |
| Number of samples | 2 pieces |
| Carrier gas port | 1/8 inch |
| Instrument size | 600x460x360mm |
| Power supply | 220V 50Hz |