The quality of flexible packagings changes over a period of time through changes to color, texture and flavor. Shelf life is shortened by a number of factors, including: moisture, where a gain or loss can affect the texture and make a product go stale or go soft, or it can act as a catalyst to degradation in products containing fat; oxygen, which causes oxidation of products that contain fat or oil, and can assist in color changes and the onset of mould; light, another catalyst for oxidation that causes rancidity and oils and fats to break down, causing odors; aroma/odor, with aromas desirable smells and odors unwanted contaminating smells, and highly flavored foods likely to lose aroma compared to bland food that are likely to absorb odors; and the environment, where secondary packaging, warehousing, transportation, distribution, temperature and in-store situations can all affect the shelf life of a product.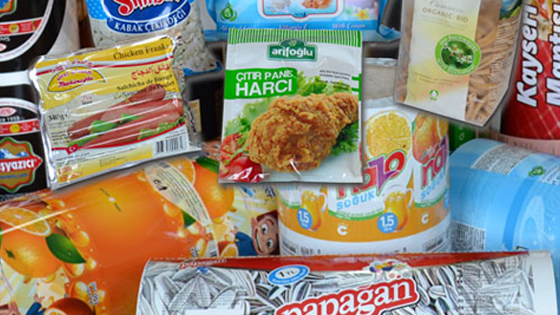 Barrier measurement
Unless there is good seal integrity there is no point in spending money on a barrier film. Whether the sealant is a coextruded heat seal layer, a coating, cold seal, CPP or PE, it must hermetically seal the inside of the pack from the outside.
Moisture is shown as WVTR (water vapor transmission rate) on most data sheets and is the steady state rate at which water vapor permeates through a film at specified conditions. Most plastic films have low WVTR. Although, for instance, OPP is significantly better than BOPET, the difference to food degradation is small. The relevant measurements are normally expressed in gm/m2/24hrs, and conditions of 37.8 degrees C and 90 percent relative humidity. Increase WVTR with humidity and also temperature or pressure rises.
Oxygen is shown as OTR (oxygen transmission rate) on most data sheets and is the steady state rate at which oxygen permeates through a film at specified conditions. There are very significant differences between the OTR of different films.
OTR is normally expressed in cc/m2/24hrs and conditions of 23 degrees C and 0 percent relative humidity. OTR can be higher in a humid environment, and becomes faster as temperature or pressure increases.
When combining two films to make a laminate, the actual barrier created will be a combination of the barrier of the two films. This is a complex issue as the converter actually needs to have the equipment to measure the above properties.
GBPI as a leader packaging testing equipment manufacturer in China spent over 17 years R&D flexible packaging testing instruments,its Water Vapor Permeability Tester And Oxygen Permeability Analyzer can greatly help flexible packaging factory to improve their packaging films quality control
GBPI WVTR and OTR Tester comply to national and international testing standard as below
ASTM E398 ASTM F1249 ASTM E96 ASTM D1653 ASTM D1434 ASTM D1927 ASTM F1307