GBPI COF testing equipment has participated in the German DRRR competence certification, and our COF testing equipment has passed the DRRR competence certification. This shows that our testing quality control system is operating effectively, and the laboratory capabilities are maintained at a high level. (Attach the proof as shown below)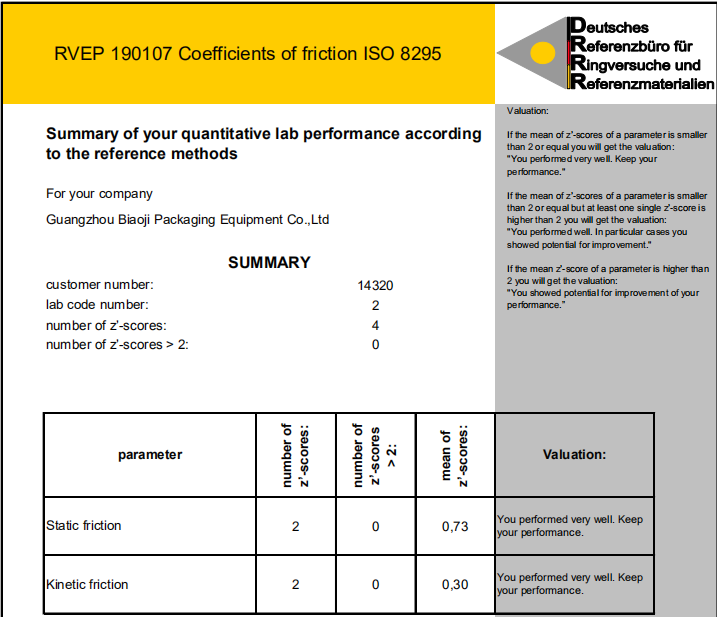 The German DRRR company (Deutsche Referenzbüro für Ringversuche und Referenzmaterialien GmbH) is committed to providing external quality assurance services for laboratories and enterprises. It is the largest professional provider of laboratory proficiency testing (PT), reference materials (CRM/RM) and technical training in Germany mechanism. Especially in the field of proficiency testing, in accordance with ISO 17043:2010 guidelines, it has become a PT provider designated by the German DAkks (German Accreditation Committee) and an internationally recognized PT provider. Currently, there are more than 1,000 customers around the world participating in DRRR proficiency testing.
With the development of people's living standards, customers have higher demands on the quality of food, clothing, beverages, medicines, automobiles, and other products, because the quality of their products is closely related to people's lives. It has became the focus of attention of many enterprises and customers. Among them, material quality control and material physical properties is an important aspect of product quality. In order to make material suppliers have a clear understanding of the quality of their own products. Guangzhou GBPI provides packaging sample testing services to the community.
The friction tester can provide detailed information of the slip characteristics of packaging material. Surface slip is a key factor when printing, erecting or filling packaging materials on an automatic line. Friction parameters help the manufacturer understand how the finish of a blown film or printed carton can influence the feeding and running speed.
Coefficient Of Friction. ASTM D1894 is a testing standard designed to measure the friction of the plastic film and sheeting. This test method measures the initial moving friction of one material being dragged across another, otherwise known as the static(initial) and kinetic( moving) coefficients of friction( COF).
The Coefficient of Friction Tester equipment performs tests to most of the recognized international test standards including ISO 8295 and ASTM 1894-78. For example, Plastic Film Packaging Coefficient Of Friction Tester can test the coefficient of friction of plastic film, thin sheet, paper and so on. It is applied to quality inspection organizations, drug control institutions, research institutes, packaging, thin film, food companies, pharmaceutical enterprises, personal care industry and so on.More packaging testing equipment can be contacted click the link:https://www.gbpitester.com/