Principles of gas chromatography (GC)
For packaging materials, gas chromatography (GC) is used to analyse solvent residues in printing or adhesive layers. If solvent residue levels are too high, this poses a risk, as it could lead to undesirable odours or poor laminate adhesion. That is why we measure each production stage multiple times.
GC can break down a solvent compound into its individual components, so you can see the constituent parts of solvent residues. For a more detailed description of gas chromatography, see Wikipedia.
How we use GC for you
It's all about quality assurance. We check each production stage carefully to ensure that.
• Solvent residue levels are so low they cannot affect your product (there are always some solvent residues).
• There are no undesirable components, such as toluide.
Every responsible printing company uses GC for quality assurance these days. The only differences lie in how reliably it is used and how frequently measurements are taken. Our system is therefore equipped with a so-called auto-sampler, which enables us to carry out a large number of measurements.
What solvent residue level is allowed?
There is no definitive answer to that question. However, the following basic rules have been developed after years of experience in cooperation with major brand-name companies:
• Solvent residue level <= 20 mg/m2 can always be achieved and is sufficiently low for food in almost every case.
• Values <= 5 mg/m2 are sometimes required and are achievable, but drive costs up. Lower values therefore require slow production speeds and ongoing measurement of solvent residues. Technically possible, but expensive.
• Values significantly above 20 mg/m2 are difficult.
This is to measure the solvent retention in the laminated films. This helps us maintain the traces of the solvents within the limits.
GBPI Manufacture GC-9802 Gas Chromatography for our cooperative printing customers all over the world.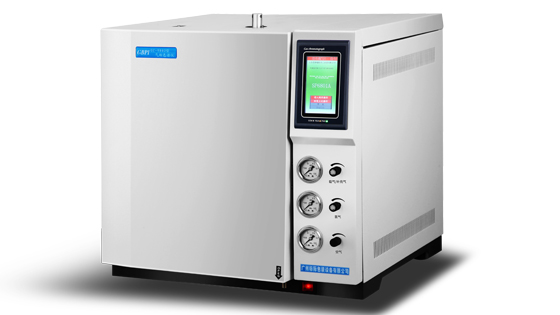 Product Feature
1. Economical and practical, excellent performance and quality.
2. Adjustable gas circuit pressure, stable flow, with multiple gas circuit system of nitrogen, hydrogen, air, exhaust, shunt , cleaning.
3. LCD screen displays temperature in real time.
4. Cellular overall structure design, convenient to install and maintenance.
5. Advanced noise resistant system, work quietly.
6. Over-temperature protection function, with program protection and circuit protection double insurance.
7. With data workstation, professional software support and powerful data analysis function.
8. Display working condition and chromatogram curves; curves can be zoomed and moved.
9. Professional test report, can export PDF file.
10. Manual button switch, its function is equal to "start collecting", which is convenient for sampling.
11. Easy to operate detector and baseline calibration
Related Reading:High Quality Gas Chromatography Equipment,Gas Permeability Analyzer