Introduction of State Reference Material
For a long time, there is a blank in the reference materials for packaging testing instruments in the industry. The Measuring Development Plan (2013- 2020) issued by State Council points out that Food safety, clinical laboratory, biological, environmental protection, material science become the focus of research and development of reference materials. Now, the reference materials of gas permeability, water vapor permeability and oxygen permeability produced by GBPI win the affirmation of Grade Secondary Reference Materials. GBPI becomes the first development organization of the reference materials of film permeability. These reference materials traceable to N.I.S.T and are mainly applied to the calibration and inspection of the gas permeability analyzer, water vapor permeability and oxygen permeability of packaging of food and drug. Reference Materials plays a very important role in packaging testing.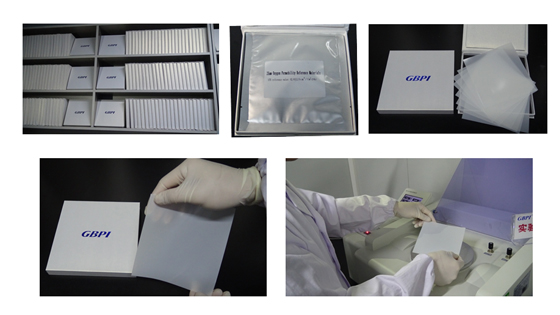 Dear users of permeation testers, do you:
Spend thousands of dollars on instrument calibration each year?
And even not sure whether it really works?
Get mad at complicated operation of calibration?
If all your answers are "Yes"—GBPI reference film can help you solve it out
Let your precious cost do the RIGHT thing—a kind of Certified Reference Materials: Standard Calibration Film for Permeation Testers made by GBPI is your ideal choice.
How is GBPI's Standard Calibration Film?
With authentication certificate issued by government—Certified Reference Materials
The first one in Asia-Pacific Region
With specific reference values—more precise and more accurate
Normative storage and packaging—ensure performance
Convenient calibration operation—user friendly
Much lower price than other "calibration films" on the market right now—costing saving
Basic information of these certified reference materials
Made of: Polyester film
Size: 137mm×142mm
Thickness:
Reference Materials of Gas Permeability: 125μm, 300μm
Reference Materials of Water Vapor Permeability: 125μm, 300μm
Reference Materials of Oxygen Permeability: 25μm, 125μm
Any questions please feel free to meassage us and calling us directly