The packaging industry is increasingly strict regulation of the quality of packaging containers, enterprises want to develop in a high-pressure environment must pay great attention to each production link, so that each link in accordance with national standards to test. To solve the problems that did not break out in the bud, it is conducive to reducing production costs and reducing the defective rate of the product. For enterprises producing packaging containers, want to ensure the integrity of the packaging, the cap torque is one of the important physical properties of manufacturers to test the project.
Glass Bottle Cap Torque Tester can use HP-1000 developed and produced by Guangzhou Biaoji Packaging Equipment Co., Ltd. which is also known as medicine bottle cap torque tester, carbonated beverage cap torque force tester and cosmetic bottle cap torque tester, etc.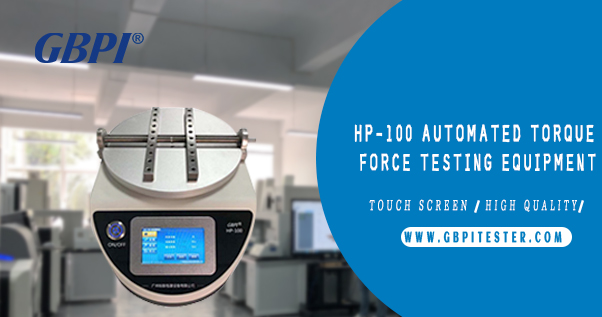 Bottle Cap Torque Tester
Bottle cap torque determination is a strict requirement in many packaging industries and is generally found in the standards for testing the tightness of packaging container caps. In view of the fact that many manufacturers do not know much about the glass cap torque, it is easy to enter a misunderstanding in the purchase of cap torque testing instruments. This will help manufacturers to be more focused when purchasing equipment.
Testing Principle
The sample bottle is fixed on the special torque fixture, and the bottom end of the fixture is fixed on the torque sensor inside the test chamber, which drives the bottle by rotating the cap, thus causing the response of the torque sensor to test the torque value required for clockwise or counterclockwise rotation of the cap.
The scope of application of the cap torque tester.
It can test the torque value of locking, opening and screwing of caps of pharmaceutical plastic bottles, oral solid bottles, pharmaceutical plastic bottles, oral solid bottles, carbonated beverage bottles, non-vapor mineral water bottles, cosmetic bottles and other packaging products. This equipment comes with powerful data storage function, which can directly query the test data.
As a common container for food packaging, the risk of affecting the integrity of the packaging is everywhere, therefore, the correct understanding and accurate grasp of the glass bottle cap torque is the focus of the manufacturer's regulatory work, the key to quality control is to find the risks that exist in each production chain.
With the business purpose of providing customers with the most satisfactory products and services, Guangzhou Biaoji Packaging Equipment Co., Ltd. solemnly promises to ensure the stability and accuracy of the instrument while continuously improving the quality of service, from mid-sales to after-sales delivery, commissioning opening, instrument maintenance management, service, user training and other aspects.