What is "WVTR"
WVTR stands for "Water Vapor Transmission Rate", a measure of the passage of water vapor through a barrier material. It's also know as "MVTR", or "Moisture Vapor Transmission Rate".
How to measure water vapor resistance
Water vapor resistance is measured in a special chamber where it is divided vertically by the substrate/barrier material. A dry atmosphere is in one chamber, and a moist atmosphere is in the other. A 24-hour test is run to see how much moisture passes through the substrate/barrier from the "wet" chamber to the "dry" chamber. Standard test procedures (ASTM E96) can specify any one of five combinations of temperature and humidity in the "wet" chamber. The toughest conditions are 100°F / 95%RH (Relative Humidity).
Nowadays, the best barrier material on the market has an WVTR of .02. At Protective Packaging Corporation we focus on providing only the highest quality moisture barrier materials. With more than 16 years of experience in the field, GBPI have the expertise to answer any of your questions. More importantly, our experience is what allows us to offer the most effective solutions and good quality and accuracy water vapor permeability tester.
Currently, GBPI to be the pioneer design and manufacture Infrared detection sensor water vapor transmission rate tester in China.Our W403 water vapour permeation analyzer with infrared sensor to help our packaging industry customers to measure their barrier material WVTR/MVTR with high precision. Below introduce W403 WVTR Tester specification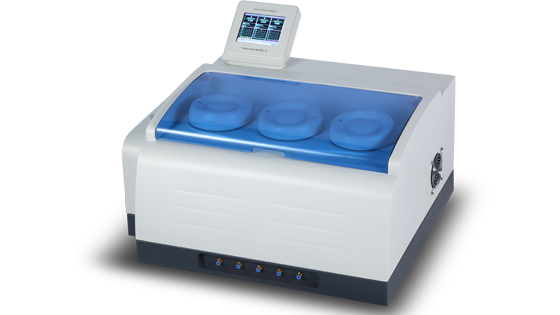 High efficiency
1. Three independent test chambers: With three sensors and each chamber test independently, three same/different samples can be tested at the same time and output three test reports, which improve test efficiency.
2. With three different test modes of high, medium and lower barriers, can test films with different barrier property.
3. Measurement precise up to 0.001 g/m2•24h, can test high barrier materials, such as aluminum foil.
4. By adding adaptive accessory, can test water vapor transmission of various containers such as bag, bottle, can and bowl.
Reliable and easy-maintenance instrument
1. Imported infrared sensor, with high precise and good performance, can work for a long time.
2. Sensor over-range protection, prevent damaging important sensors.
Highly modularized, easy to maintain.
More details and any questions please do not hesitate to leave us message or call us.