Do you know Why is Packaging Film Thickness Important?
Packaging covers every field of our daily life.Plastic films are often used to encapsulate, protect and preserve products that are sold to consumers or industry. The film is used as a two way barrier to stop product leaking out and also external contaminants migrating in.
As we mentioned in last writing articles,packaging material barrier properties play a great role in packaged products shelf life.So is there any connection between barrier properties with film thickness? The answer is definitely yes, the effectiveness of the film as a barrier is related to its chemical composition and also its thickness. Films which are below a specified thickness may fail physically- bursting, splitting or leaking, they will also be less effective at stopping the migration of oxygen and contaminants that can lead to product spoilage.
Who need to Measures Film Thickness and international test standards?
Packaging developers and product manufacturers require measure and specify the thickness of the film to ensure the robustness of the packaging and the functionality of the barrier. And Various test methods are used in this specification including burst testing, tear testing and various film migration tests. These tests, including thickness measurement are repeated as part of Quality Assurance inspection throughout the manufacture of a product.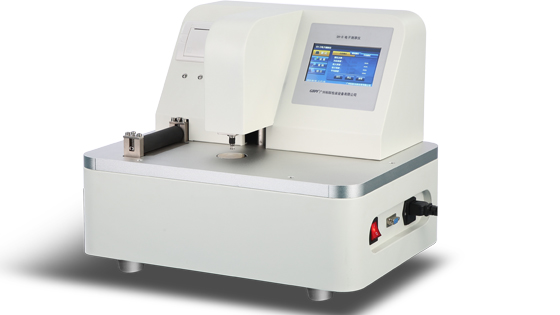 ASTM F2251 Standard Test Method provides a means for measuring a thickness dimension. Accurate measurement of thickness can be critical to meeting specifications and characterizing process, product, and material performance.
What kind of testing instrument can be used for thickness measurement?
Focus on helping film manufacturers to ensure their film production comply to customers requirements and international standards, GBPI contribute to packaging material testing equipment design and manufacturing over 17 years. As China Pioneer packaging testing instruments R&D production factory, GBPI has been helping thousands of packaging industry customers to improve their packaging film quality control. GBPI GH-D electronic thickness tester is a high-precision digital thickness tester together machine with electronic, easy to operate, mainly make the direct or comparing thickness measurement for plastic film, paper etc. It is comply to international thickness testing standard ASTM F2251, greatly helping overseas customers to meet their local market standards requirements.
GBPI—Your trusty packaging material testing Expert! We passed different type of certificate and government authorization. Quality is our culture. Any questions please feel free to contact us or call us directly.