Nowadays,an important requirement in selecting food packaging systems is the barrier properties of the packaging material. Barrier properties include permeability of gases (such as O2, CO2, and N2), water vapour, aroma compounds and light. These are vital factors for maintaining the quality of packaged foods.
Oxygen transmission rate (OTR) is the measurement of the amount of oxygen gas that passes through a substance over a given period. It is mostly carried out on non-porous materials, where the mode of transport is diffusion.
GBPI Supply different type Oxygen Permeability Tester for food pharmaceutical and other packaging industry oxygen transmission rate testing.Our hot selling Oxygen Permeation Analyzer Y310 with automatic temperature monitor, program controlled temperature increase and decrease, precision: 0.1℃.
Humidity control: dual gas flow method, stable, precision 1%RH; gas flow auto compensation.
Test range can extend to 260000 cm3/(m2·24h) by installing extra fittings.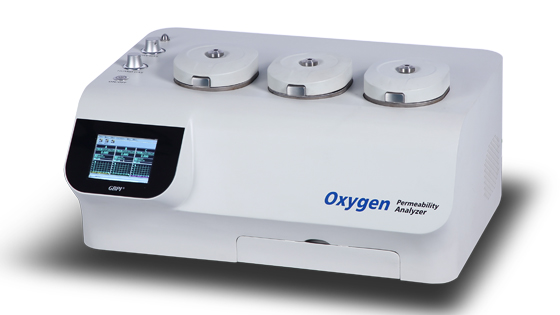 GBPI Manufacture water vapor permeability tester with different testing chamber for customers.Our WVTR Analzyer W403 with infrared detection sensor, equipped with three independent test chambers: With three sensors and each chamber test independently, three same/different samples can be tested at the same time and output three test reports, which improve test efficiency.With three different test modes of high, medium and lower barriers, can test films with different barrier property. Measurement precise up to 0.001 g/m2·24h, can test high barrier materials, such as aluminum foil. By adding adaptive accessory, can test water vapor transmission of various containers such as bag, bottle, can and bowl.