Recently, the laboratory from all over the world comparing testing data result released. Our GBPI CNAS Laboratory performance excellence during testing plastic film different properties, including tensile properties, thickness, dart impact, angle tear, Elmendorf Tear method, the coefficient of friction, gloss and haze ;eight testing items was stable and high precisiond.
This activities of participants including global 15 large laboratories ,like Amcor from Australia, the United States Intertek, Dow Chemical and etc, as China's only one laboratory participation, GBPI CNAS Laboratory all testing items showed an excellence results.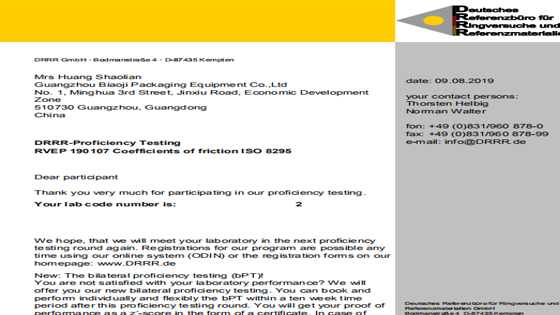 The Organizer DRRR from Germany, The German reference office for food proficiency testing and reference materials (DRRR) is a service company for external quality assurance of laboratories of the food industry, the packaging / consumer goods /plastic industry and building industry.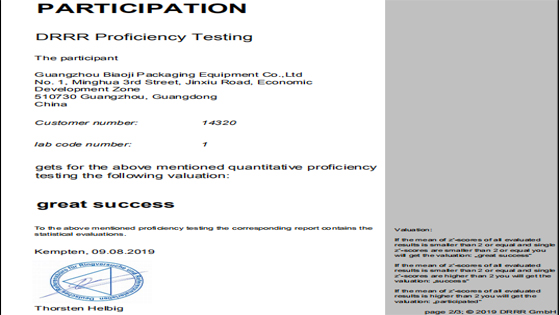 DRRR as an inspection body, reference material producer and proficiency testing (PT) provider. For a wide selection of proficiency testing schemes the DRRR is accredited acc. DIN EN ISO/IEC 17043 (please look into the appendix of our scope of accreditation).DRRR offer many certified reference materials as well as advise on quality matters and quality assurance training in the laboratory and the production
GBPI has been participating in DRRR and also ASTM PET, Pira Word famous lab testing data compare activity.GBPI focus on supplying high precision laboratory testing data to customers, to guide them establish their high quality laboratory and help thm comply to their local and international lab testing standards.
GBPI committed to the packaging testing technology to enhance detection equipment research and development to help customers cope with the packaging problem, helping and securing the quality of the packaging-related industries. Our GBPI CNAS Laboratory pass international inspection body and meet the international testing standards, For more information about packaging testing laboratory or packaging testing properties, please don't hesitate to contact us directly by mail or calling