The
Incline impact tester
simulates the resistance of product packaging to impact damage in real-world environments such as handling, stacking of shelves, sliding of motors, loading and unloading of locomotives, transportation of products, etc.
It is an essential tool for any company seeking to prevent potential problems in production handling and to optimize its packaging for this purpose. This inclined impact table can also be used as a common test equipment for inclined impact in scientific research institutions, universities and colleges, packaging technology testing centers, packaging material manufacturing plants, as well as foreign trade and transportation. We can provide you with solutions as well as let you save costs and ensure that the load reaches its destination safely.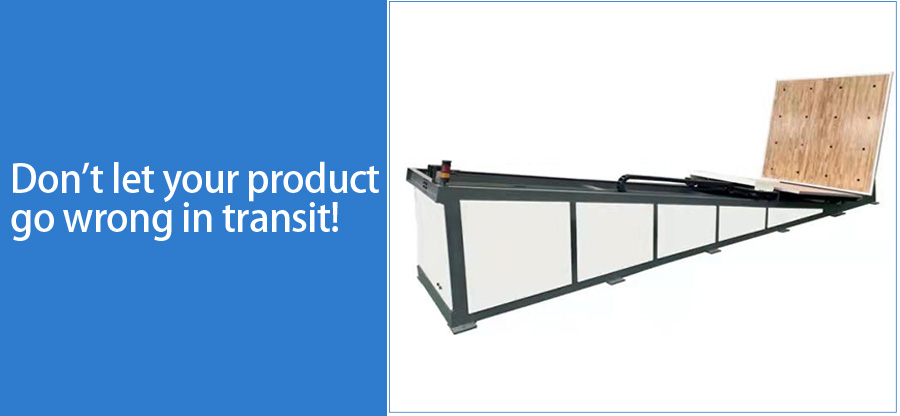 Incline impact tester can help your business prevent losses and unnecessary costs by optimizing the packaging necessary to protect your products during shipping.
Functions and features
1. flexible positioning electric carriage, easy to fix the position easily and achieve the required speed change value.
2. the height of the carriage is relatively low, which is conducive to the installation of test pieces; the reinforced impact-resistant plate guarantees a solid structure.
3. the surface of the carriage can be adjusted to a horizontal level, which is convenient for the user to install the test piece; the angle adjustment is driven by cylinder, which is flexible and convenient.
4. it can be operated by remote control to fully ensure the safety of testers.
5. the customer only needs to fix the machine on the ground during installation, no other complicated operation or installation, easy to test.
One way to reduce overall product costs and increase product protection is to optimize packaging, and GBPI Co, Ltd can provide a range of product packaging testing optimization solutions, including Carton compression resistance test ,It can test the stacking and compression resistance of cartons;Abrasion resistance test of carton ink,It can prevent the packaging ink layer from peeling off due to abrasion.
You can evaluate your goods with GBPI Co,Ltd's reliable tilt-impact testing system. Our powerful, state-of-the-art test systems are designed for long-term use in your business. Each of our solutions has a different load size/footprint/weight capacity, so you can choose based on your product and its intended environment.
Browse our comprehensive selection of packaging material testing equipment to discover the solution that best fits your individual needs.