As for masks, they are divided into civilian and medical categories, which are further divided into several categories. There are differences in product standards and requirements to be met for each category. GBPI would briefly explain the differences and connections between domestic standards and other standards for masks.
The series of mask products independently developed by GBP masks: Bacterial Filtration Efficiency Tester , Particulate Filtration Efficiency Tester, Synthetic Blood Penetration Tester , Flame Retardant Tester, Respiratory Resistance Tester, and other products can meet the requirements of the following mask testing standards.
Types of masks
1. Sort by shape
According to the shape of the mask, there are three types: flat type, folding type and cup-shaped.
Flat masks are easy to carry, but have poor adhesion; folding masks are easy to carry; cup-shaped breathing space is large, but it is not convenient to carry.
2. Classified by wearing style
Head-wearing style: suitable for workshop workers who wear it for a long time, and it is troublesome to wear.
Ear wear type: easy to wear, suitable for frequent wear and take off.
Neck-wearing style: Use S-hooks and some soft material connectors. The connecting ear straps are converted to neck straps, which are suitable for long-term wear and are more convenient for workshop workers such as wearing helmets or protective clothing.
3. Classified by materials used
Gauze masks: There are still some workshops using gauze masks, but the GB19084-2003 standard that they follow is relatively low and does not meet the GB2626-2019 standard, and can only protect against large particles of dust.
Non-woven masks: Disposable protective masks are mostly non-woven masks, mainly physical filtration supplemented by electrostatic adsorption.
Cloth masks: Cloth masks only have a warming effect without filtering PM and other very small particles.
Paper mask: suitable for food, beauty and other industries, with good air permeability, easy to use and comfortable, etc., the paper used follows the GB/T22927-2008 standard.
Masks made of other materials, such as new biological protective filter materials.
4. Classified by scope of application
Medical masks: There are three types in China, general medical masks, medical surgical masks, and medical protective masks.
Particulate protective masks: industrial use meets the GB2626-2019 standard, special labor protection products safety mark certification (LA certification), in 2015 from compulsory certification to voluntary certification. If it is used to prevent smog, it needs to use the insert type, which must meet the GB/T32610-2016 standard. Civilian use complies with GB/T32610-2016 standard.
Warm cloth mask: Warm mask, suitable for winter wear, only need to meet the relevant standards of fabrics.
Other special industries: such as chemical industry.
5. According to the protection level
Different countries and different industries have formulated different standards, and divided into different protection levels according to different particle filtration efficiency.
6. Other
Respiratory protective masks can be divided into filter type and isolation type. Filter type can be divided into air supply filter type and self-priming filter type. The latter can be divided into half mask and full mask; isolation type can be divided into air supply type and air-carrying The two types include positive pressure and negative pressure respectively.
Mask standard
1. Main standards for masks in China
(1) GB2626-2019 standard
The standard filter element is divided into two categories (KN and KP) according to filter performance.
KN type is only suitable for filtering non-oily particles; KP type is suitable for filtering oily and non-oily particles
(2) GB/T32610-2016 standard
This standard is the standard for civilian masks. The technical specifications for daily protective masks are applicable to protective masks worn to filter out particulate matter in daily life in an air pollution environment.
(3) YY/T0969-2013 standard
This standard is an industry standard for disposable medical masks. It is suitable for general protection of medical staff and is only used in general medical environments.
(4) YY0469-2011 standard
This standard is the industry standard for medical surgical masks. It is applicable to disposable masks worn by clinical medical staff during invasive operations, and is a commonly used medical mask in operating rooms and other environments with risks of body fluids and blood splashing.
(5) GB19083-2010 standard
This standard is the industry standard for medical protective masks. It is suitable for filtering particulates in the air, blocking droplets, blood, body fluids, secretions, etc., including various infectious viruses in the medical working environment.
2. International mask standards
(1) American labor insurance mask standard: NIOSH Standards
This standard is classified according to different test media and filtration efficiency.
Test Mode: NaCl&DOP Particle Size(μm): 0.3μm Flow Settings(L/min): 85L/Min
| | | | |
| --- | --- | --- | --- |
| Type | Penetrance (%) | Filtration Efficiency (%) | Flame Retardant |
| N95/P95/R95 | 5% | ≥95% | 35mm H2O |
| N99/P99/R99 | 1% | ≥99% | 35mm H2O |
| N100/P100/R100 | 0.03% | ≥99.97% | 35mm H2O |
(2) EU labor insurance mask standard EN149: 2001+A1-2009
PFE
Type

NaCl 95L/min

DOP 95L/min

Penetrance (%)

Filtration Efficiency (%)

Penetrance (%)

Filtration Efficiency (%)

FFP1

20

≥80%

20

≥80%

FFP2

6

≥94%

6

≥94%

FFP3

1

≥99%

1

≥99%
Respiratory Resistance
Type

Maximum resistance(mbar)

Inhale

Exhale

30 L/min

95 L/min

160 L/min

FFP1

0.6

2.1

3.0

FFP2

0.7

2.4

3.0

FFP3

1.0

3.0

3.0
(3) American medical and health mask standard ASTM F2100-2004
ASTM F2100-2004 Medical Mask;
Testing Types

Low

Moderate

High

Barrier

Barrier

Barrier

BFE (%)ASTM F2101:2007

≥95

≥98

≥98

Air Flow Resistance and Differential Pressure (mmH2O/cm2)

<4.0

<5.0

<5.0

PFE (%) 0.1um Labtex ASTM F2299

Not required

≥98

≥98

Synthetic Blood Penetration(ASTM F 1862,ISO22609)mmHg

80

120

160

Flame Retardant 16 CFR Pat 1610

Class 1

Class 1

Class 1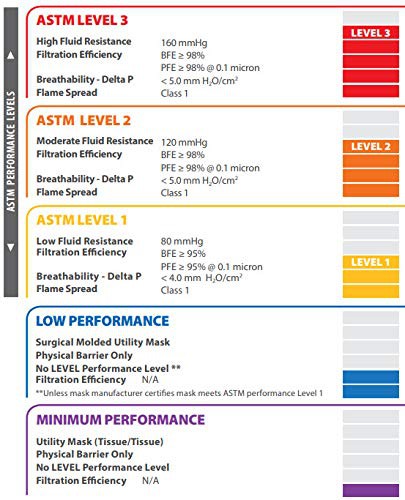 (4) EU medical and health mask standard EN14683-2014
EN14683-2014 Medical Mask;
| | | | |
| --- | --- | --- | --- |
| Testing Types | TYPE Ⅰa | TYPE Ⅱ | TYPEⅡR |
| BFE(%) | ≥95 | ≥98 | ≥98 |
| Air Flow Resistance and Differential Pressure(Pa/cm2) | 29.4 | 29.4 | 49.0 |
| Synthetic Blood Penetration(KPa) | Not required | Not required | ≥16(120mmHg) |
| Microbial cleanliness(cfu/g) | ≤30 | ≤30 | ≤30 |
Guangzhou Biaoji Packaging Equipment Co.,ltd is a professional manufacturer focused on developing and producing mask testing instruments and focused on developing packaging material test instruments. and spouting machine Founded in 2002 the company has received IOS 9001 certification and recognized as high-tech enterprise and software enterprise by national authority. We hold numerous technology patents and software certificates from the national authority, and gained awards for technological progress. To obtain a testing instrument that meets the mask testing standards, please contact us directly