For plastic and rubber industry, we both know K show is the world's largest trade fair for the plastics and rubber industry. It gathers the most important supplier of plastics and rubber machinery, raw and auxiliary materials and semi-finished products, technical parts and reinforced plastic products under one roof. It is an ideal platform to showcase products and innovations and to make business contacts. K will be by a special exhibition under the theme "Visions in Polymers", that presents the trends and innovations of the industry. Special consideration is given to the subjects of energy efficiency and resource conservation.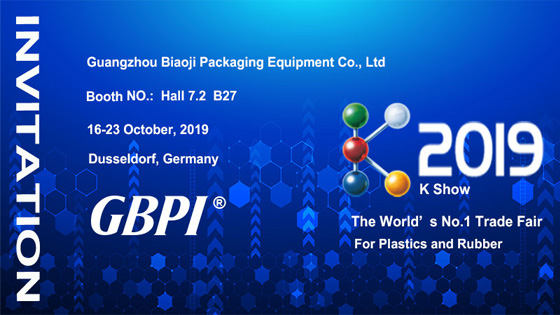 GBPI Packaging Testing Instruments Manufacturer join K show every time. This year GBPI brings its hot selling start testing equipment including W413 Water Vapor Transmission Rate Analyzer and Y310 Oxygen Permeability Tester to join the K show and also other packaging testing instruments. Germany is a lucky country for GBPI---as GBPI participate "tear force test" "coefficient of friction" "light transmittance / haze measurement" four projects the international laboratory proficiency testing which are organized by German DRRR organizations in 2019, GBPI CNAS laboratory performs with excellent results!
The German reference office for proficiency testing and reference materials (DRRR) is a service company for external quality assurance of laboratories of the food industry, the packaging / consumer goods /plastic industry and building industry. It is German largest inspection body, reference material producer and proficiency testing (PT) provider. Especially the field of proficiency testing, DRRR based on ISO 17043:2010 rules, becomes the proficiency testing (PT) provider which is authorized by German DAKKS, also internationally recognized providers of PT. Currently, there are more than 1,000 laboratory from worldwide to participate in DRRR proficiency testing. Below pictures shows our GBPI laboratory DRRR proficiency testing results, very excellent and great success
GBPI Focus on instruments quality control and strictly quality control system makes us stronger and growing faster. Overall packaging testing solutions expert for your choice, your best packaging material testing solution supplier, GBPI Your Packaging Expert---waiting for your visiting our booth in K show Booth number 7.2 B27-- The 21st edition of the K takes place on 8 days from Wed., 16.10.2019 to Wed., 23.10.2019 in Düsseldorf.