Gas chromatography is a term used to describe the group of analytical separation techniques used to analyze volatile substances in the gas phase. In gas chromatography, the components of a sample are dissolved in a solvent and vaporized in order to separate the analytes by distributing the sample between two phases: a stationary phase and a mobile phase. The mobile phase is a chemically inert gas that serves to carry the molecules of the analyte through the heated column. Gas chromatography is one of the sole forms of chromatography that does not utilize the mobile phase for interacting with the analyte. The stationary phase is either a solid adsorbant, termed gas-solid chromatography (GSC), or a liquid on an inert support, termed gas-liquid chromatography (GLC).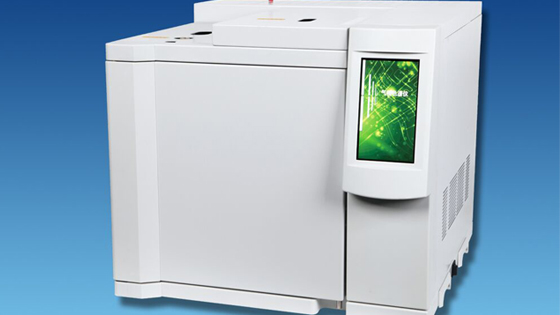 For packaging materials, gas chromatography (GC) is used to analyse solvent residues in printing or adhesive layers. If solvent residue levels are too high, this poses a risk, as it could lead to undesirable odours or poor laminate adhesion. That is why we measure each production stage multiple times.
A gas chromatograph (GC) is an analytical instrument that measures the content of various components in a sample. The analysis performed by a gas chromatograph is called gas chromatography.
Principle of gas chromatography: The sample solution injected into the instrument enters a gas stream which transports the sample into a separation tube known as the "column." (Helium or nitrogen is used as the so-called carrier gas.) The various components are separated inside the column. The detector measures the quantity of the components that exit the column. To measure a sample with an unknown concentration, a standard sample with known concentration is injected into the instrument. The standard sample peak retention time (appearance time) and area are compared to the test sample to calculate the concentration.
GBPI Design and Manufacture new GC Gas Chromatography GC9803 on 9th April 2019,its updating function as below,more details please feel free to contact us
Standard PC side counter control software, built-in chromatographic workstation, PC side counter control and the host touch screen synchronous two-way control.
The main machine adopts 7-inch color touch screen, which displays the flow value and pressure value of the air circuit electronically.
Multi-core, 32-bit embedded hardware system ensures the reliable operation of the instrument.
One-click start function.
It has perfect system self-check function and automatic fault identification function.
Quick opening after cooling system, from 250 ° to 50 ° cooling less than 10 minutes
Memory function of 20 groups of samples was tested.
RS232 communication port, LAM network port
FID automatic ignition, no need for igniter