In the food packaging industry, using a material composition that extends shelf life is a key component to ensuring the safety of the product and preserving the taste of the food. In addition, using packaging material that prolongs a products shelf life can drastically cut down on waste of perishable products, and creates a longer window for grocery stores to stock product before it reaches the hands of the consumer. A great way to achieve this is by using a packaging material that reduces the amount of oxygen that permeates the plastic, such as EVOH.
So what is EVOH film and how does it contribute to increasing the shelf life of packaged food products?
EVOH stands for Ethylene-vinyl alcohol copolymer and is a flexible, crystal clear, glossy thermoplastic copolymer. This material has excellent flex-crack resistance, and exhibits a high resistance to hydrocarbons, oils and organic solvents. EVOH is known for having some of the best barrier resistance to gases such as oxygen, nitrogen, and carbon dioxide which makes it particularly suited for packaging food, drugs, cosmetics, and other perishable products. When compared to other common films, EVOH is considered to have superior barrier properties.
You might be thinking so how to test EVOH oxygen transmission rate.GBPI Oxygen Permeability Analyzer Y110 help you find out the answer.This oxygen permeation tester is our GBPI design for EVOH Barrier film oxygen transmission rate testing,popular for our EVOH Barrier material customers.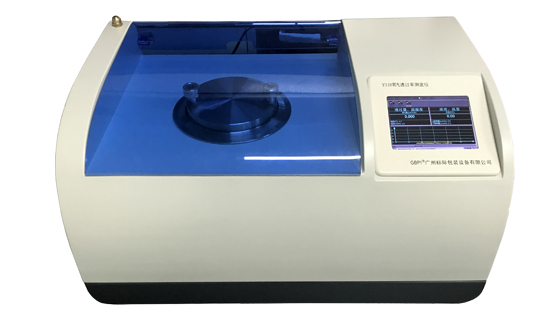 Advanced technology
Temperature control: International advanced electromagnetic technology, program controlled, auto heating and cooling; and no need of external accessories. Precision: 0.1℃.
Humidity control: Dual gas flow method(dry gas and humid gas), with broad range, high precision (1%RH) and stable flow.
Carrying cutting-edge ARM controlling system, can run independently without computer.