To measure and compare the oxygen barrier of different types of film materials, packaging experts refer to the
oxygen transmission rate
(OTR). Oxygen-barrier packaging materials with OTR values of < 1 cc/100 in
2
/24 hr (15.5 cc/m
2
/24 hr) are considered "high oxygen barrier" solutions.
Packaging solutions for the food industry, in particular, must account for the harmful effects of concentrated oxygen within a pack; understanding the different types of flexible packaging available to combat food degradation from oxygen exposure is critical to extending the shelf life of the product and protecting the health and safety of the customer.
So How to measure the oxygen transmission rate of your packaging material?
GBPI-China Pioneer Packaging Testing Equipment Manufacturer supply you one-step packaging solution,our Y210 Oxygen Permeability Tester greatly help you to determining the packaging material OTR.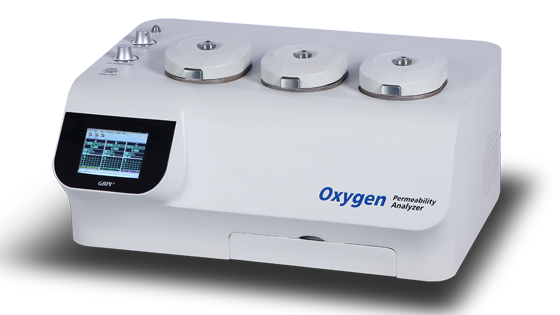 Y210 Oxygen Permeability Analyzer is to test the oxygen transmission rate (OTR) of films or sheets materials.
Applied to:
1)Plastic film, composite film, aluminum foil, aluminized film,etc;
2)Sheet, panel, rubber, ceramics,etc;
3)Packaging containers, such as:glass, bottle, cans, boxes, etc;
4)Expanding application: solar panel, LCD film, medical patch, etc.
Widely used in quality inspection organizations, drug control institutions, research institutes, packaging, thin film, food companies, pharmaceutical enterprises, personal care industry, electronics industry and so on.
GB/T19789-2005、YBB00082003-2015、ASTM D3985、ASTM F2622 、ASTM F1927、ASTM F1307、ISO 15105-2、DIN 53380-3、JIS K-7126-B