Guangzhou Biaoji Packaging Equipment Co.,Ltd (below called GBPI)actively participate in international proficiency testing,recently obtained a good news, to participate "tear force test" "coefficient of friction" "light transmittance / haze measurement" four projects the international laboratory proficiency testing which are organized by German DRRR organizations in 2019, GBPI CNAS laboratory performs with excellent results! It indicates our GBPI quality control testing system operating effectively, our CNAS Laboratory proficiency testing maintain a high level .
The German reference office for proficiency testing and reference materials (DRRR) is a service company for external quality assurance of laboratories of the food industry, the packaging / consumer goods /plastic industry and building industry. It is German largest inspection body, reference material producer and proficiency testing (PT) provider. Especially the field of proficiency testing, DRRR based on ISO 17043:2010 rules, becomes the proficiency testing (PT) provider which is authorized by German DAKKS, also internationally recognized providers of PT. Currently, there are more than 1,000 laboratory from worldwide to participate in DRRR proficiency testing. Below pictures shows our GBPI laboratory DRRR proficiency testing results, very excellent and great success.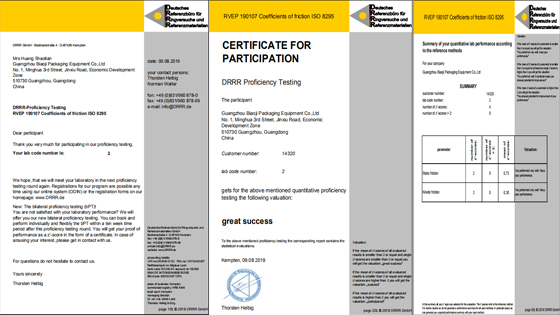 GBPI laboratory Coefficient of Friction proficiency testing by DRRR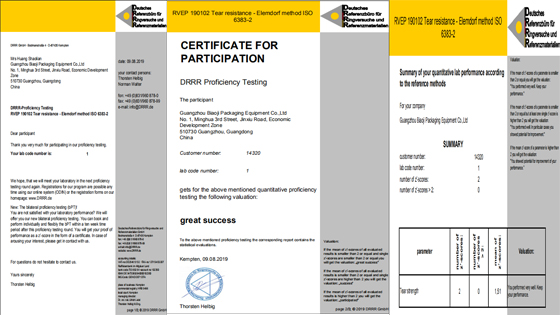 GBPI laboratory Elemdorf Tear Resistance Test proficiency testing by DRRR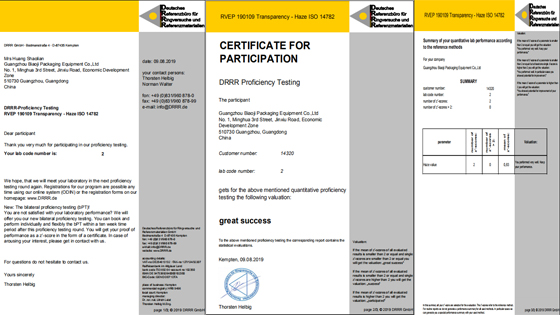 GBPI laboratory Haze and Transparency Test proficiency testing by DRRR
Guangzhou biaoji testing tech Co., Ltd. was established in 2016, is a national, comprehensive and independent third party testing services provider. We strive to provide plastic film water vapor transmission rate, oxygen transmission rate, gas permeation testing service for packaging, food, medicine, testing etc.. And access to many well-known international institutions and organizations Accreditation and certification, testing and certification results are internationally recognized.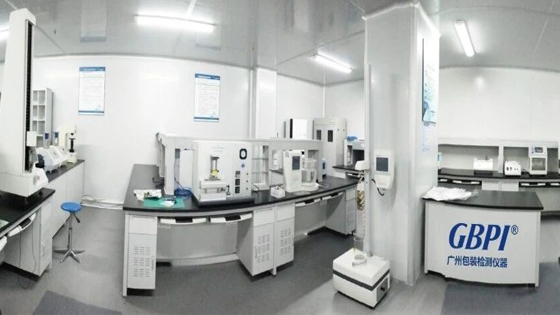 Through the efforts of our staffs and customer trust, now GBPI already has a professional testing team, testing room area of 1536 square meters, and equipped with relative testing instruments including oxygen permeability tester, gas permeability tester, water vapor permeability tester and various auxiliary facilities. Functional areas including sample rooms, testing rooms, offices. Inspectors have the appropriate academic background and knowledge structure, strict ly accordance with national norms in terms of organization, equipment, personnel training, testing procedures, laboratory environment and work systems, etc., to meet the needs of the testing work.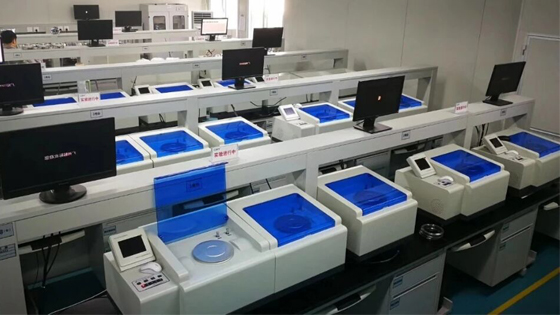 The company laboratory passed the Chinese National Laboratory Accreditation accredited Conformity Assessment Board (CNAS), obtain certify by inspection and testing institutions accreditation (CMA). to provide material barrier property testing services For domestic food, medicine and other packaging industry manufacturers, to provide data support for the packaging product testing, to provide users with data comparison service, issued legally binding test data for customers.
Customers throughout the country and the world dozens of countries and regions, ranging across different areas of scientific research institutions, food, pharmaceutical, cosmetic cigarette packets, packaging plant, new materials, new energy, film factory etc.