Standard test method for water vapor transmission rate of plastic films and sheets using modulated infrared sensors
The purpose of this test method is to obtain reliable values of WVTR for plastic films and sheets.
WVTR
is an important characteristic of packaging materials that is directly related to shelf life and stability of the packaged product.
The data from this test method is suitable as a reference test method if the buyer and seller agree on sampling procedures, standardization procedures, test conditions and acceptance criteria.
1.1 This test method covers the procedures for determining the rate of water vapor passage through flexible barrier materials. The method applies to sheets and films up to 3 mm (0.1 in.) thick, consisting of single or multiple layers of synthetic or natural polymers and foils, including coated materials. It provides for the determination of ( 1 ) water vapor transmission rate (WVTR), ( 2 ) film permeability to water vapor, and ( 3 ) water vapor permeability coefficient for homogeneous materials.
Note 1 - Water vapor permeability and water vapor permeability values must be used with caution. the inverse relationship between WVTR and thickness and the direct relationship between WVTR and water vapor partial pressure difference may not always be applicable.
1.2 This standard is not intended to address all safety issues, if any, associated with its use. It is the responsibility of the user of this standard to establish appropriate safety and health practices and determine the applicability of regulatory restrictions prior to use.
GBPI's Moisture Vapor Transmission Analyzer is used to test the water vapor transmission rate (WVTR) of films or sheet materials. It is suitable for testing the water vapor transmission performance of films, sheets, papers, packaging parts and many other materials in the fields of food, pharmaceuticals, medical devices, daily chemicals, photovoltaic electronics, etc. It is an ideal configuration instrument for off-line or on-line testing of the barrier performance of packaging materials by the majority of production units in the packaging industry.
Testing principle
W413 2.0 water vapor transmission rate tester adopts the principle of infrared method. The pre-treated specimen is fixed in the middle of the test chamber, and the test chamber is divided into high humidity side and low humidity side, compressed air flows on one side of the film, dry nitrogen (carrier gas) flows at a fixed speed on the other side, due to the existence of humidity gradient, water vapor will penetrate from the high humidity side to the low humidity side, the water vapor through the specimen is carried to the infrared sensor by the flow of dry nitrogen, and the water vapor transmission rate of the specimen is obtained by the electrical signal output from the sensor. Water vapor transmission rate of the specimen and other parameters.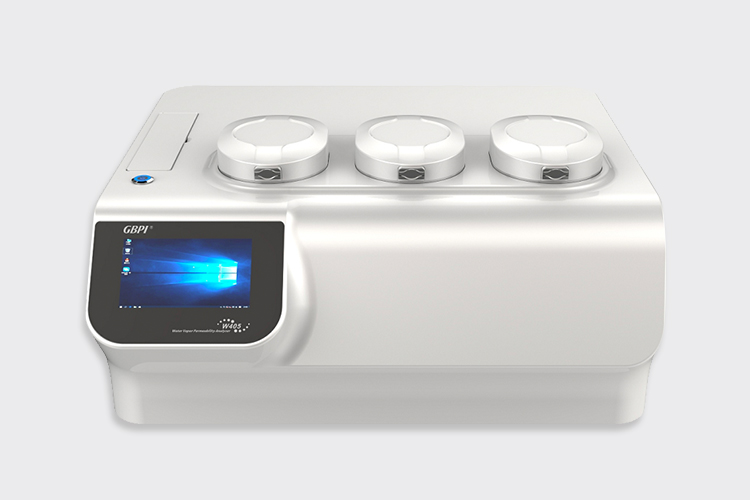 GBPI specializes in the production of package testing instruments, with many years of industry experience, professional technical team, to create a professional testing laboratory for you.