Executive Standard
GB/T19277.2-2013、ISO 14855-2:2007
Testing Principle
The test material of this method is a mixture of inoculum of decomposed compost and inert materials (such as sea sand and vermiculite). By controlling the humidity, oxygen permeability and temperature of the compost container, the sample to be analyzed in the reaction chamber is under the action of microorganisms. The biodegradation reaction is carried out through respiration, and oxygen becomes carbon dioxide and is discharged through respiration. The amount of carbon dioxide released is measured by weighing the absorption device equipped with soda lime and sodium talc, and the decomposition rate is calculated by regular measurement.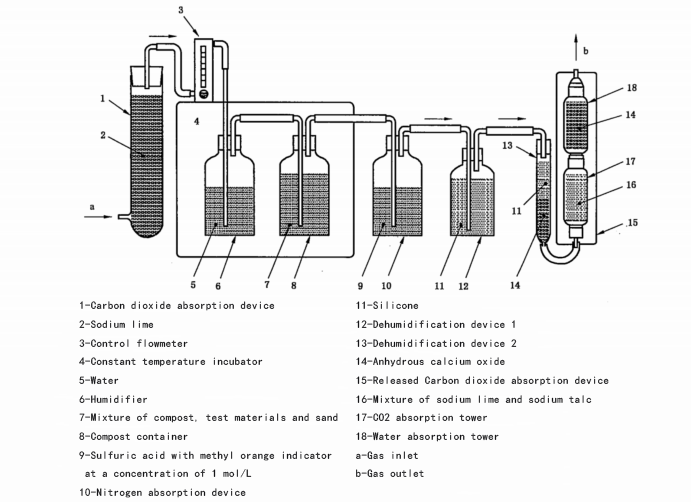 Technical parameter
Item

Parameter

Reaction system

channel

18 units

Temperature range

Room temperature -80℃,Stepping 0.1℃

Temperature control

accuracy

≤±0.2℃

Reaction flask volume

500 ml

Testing systems

scope of test

0~4200g

Detection accuracy

±0.01g

machine system

Power

200V AC

Power frequency

50/60 Hz

Working humidity

<60%

Working temperature

5-40℃

Total power

3 KW

Size

2700mm×560 mm×1800 mm
Features
Determine the amount of carbon dioxide released by the sample by gravimetric method.
Using water bath to control the temperature, achieve precise temperature control from room temperature to -80℃, and the temperature adjustment accuracy can reach ±0.2℃
18-channel detection system, high experimental efficiency.
Application field