Crush Tester RH-3000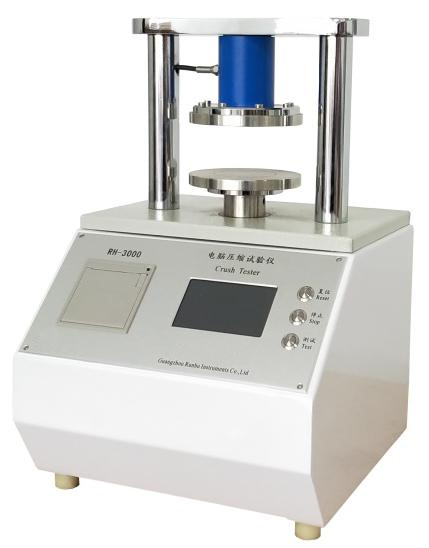 RH-3000 Crush Tester is high efficiency and easy to use. It applied for the following test items: The Cardboard Ring Crush Strength test (RCT), The Corrugated Board Edge Crush Strength test (ECT), The Corrugated Board Adhesive Strength test (PAT),
The Corrugated Paper Flat Crush Strength test (FCT), corrugated paper flat compression strength test (CMT) and crushing strength test (CCT), and other products compression strength test. RH-3000 Crush Tester is using high-precision sensors, high-speed chip design, to ensure sampling accuracy. It applies to the test strength of: RCT、CMT、CCT、ECT、FCT、and PAT.
ISO13820, ISO3037, ISO7263, ISO12192, ISO3035, GB/T2679.8, GB/T6546, GB/T6548, GB/T2679.6, , GB/T1048
Specifications
| | |
| --- | --- |
| Measurement Range | (50~3000)N, Resolution 0.1N |
| Accuracy | Indication error±0.5%,Change of indication≤0.5% |
| Test Speed | (12.5±2.5)mm/min |
| Return Speed | (1-80)mm/min |
| Parallel of Pressboards | <0.05mm |
| Max-distance of Pressboards | ≥70mm |
| Weights | About 34kg |
| Dimensions | About 330 ×350 × 510 mm |
| Power | AC110~240V |
Product Features
1.Adopt high precision load sensor, the accuracy of force can be controlled better than 1%, usually we control it within 0.5% out of factory.
2.Precision ball screw transmission, Aluminum-alloy control panel, reasonable design for upper and lower stainless steel plate.
3.High resolution color touch screen operation system, automatic complete operation, has statistics function. Micro-printer, fast and clear printing. Can be connected to PC, save, output results and graphs with our professional software.
4.High performance stepper motor driven, USA chips control, ensure accurate transmission, fast and high efficient test.
5.Professional calibration procedure, user can calibrate the machine easily.