Y110 Oxygen Permeability Analyzer
Applied to:
1.Plastic film, composite film, aluminum foil, aluminized film,etc;
2. Sheet, panel, rubber, ceramics,etc;
3. Packaging containers, such as:glass, bottle, cans, boxes, etc;
4. Expanding application: solar panel, LCD film, medical patch, etc.
Widely used in quality inspection organizations, drug control institutions, research institutes, packaging, thin film, food companies, pharmaceutical enterprises, personal care industry, electronics industry and so on.
Specification
| | |
| --- | --- |
| Item | Technical Parameters |
| Test range | 0.02~16500 cm3/m2·24h(Film)With mask can be260000 cm3/m2·24h |
| Test Accuracy | 0.001 cm3/m2·24h |
| Temperature range | 15~45℃ |
| Temperature accuracy | ±0.1℃ |
| Humidity range | 30~90%RH,100%RH |
| Humidity accuracy | ±1%RH |
| Test area | 50.24 cm2(minimum 0.785 cm2 optional) |
| Sample size | Φ100 mm |
| Sample thickness | ≤3mm |
| Number of samples | 1 piece |
| Carrier Gas pressure | ≥0.1MPa |
| Carrier gas port | Φ3mm |
| Instrument size | 600×400×330mm |
| Weight | 80kg |
| Power | 750W |
| Power supply | AC 220V,50Hz |
Standard
GB/T19789-2005, YBB00082003-2015,ASTM D3985, ASTM F2622, ASTM F1927, ASTM F1307, ISO 15105-2, DIN 53380-3, JIS K-7126-B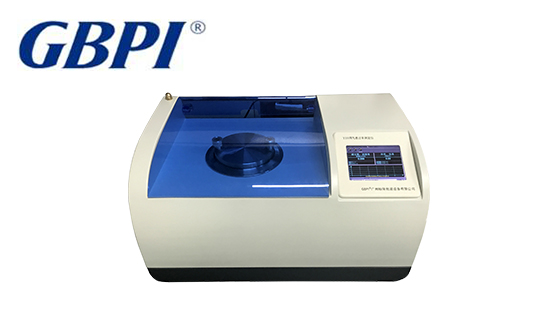 Features
Accurate and reliable data
With The State Certificate for Gradation of the certified Reference Materials and Licence for Manufacturing Measuring Instruments of the state Reference Materials(GBW(E)130497/8)of Oxygen permeability analyzer approved and issued by General Administration of Quality Supervision, Inspection and Quarantine of the P.R.C. Adopting state reference materials to calibrate and verify the instruments, ensure the accuracy, universality and authority of the test data.
Simple operation
1.LCD and windows instrument interface show testing data and working status in real time; mouse operation is simple and convenient.
2.Professional software with simple interface, easy to use and convenient to set test process.
3.Fully-auto operation, judge and stop automatically.
4.Real time curves display of transmission, oxygen concentration, temperature and humidity, curves can be easily zoomed and moved. The curves with conceal function, support query function for background data.
5.Professional test report; can be exported as PDF.
Advanced technology
1.Temperature control: International advanced electromagnetic technology, program controlled, auto heating and cooling; and no need of external accessories. Precision: 0.1℃.
2.Humidity control: Dual gas flow method(dry gas and humid gas), with broad range, high precision (2%RH) and stable flow.
3.Carrying cutting-edge ARM controlling system, can run independently without computer.
High efficiency
1.Measurement precise up to 0.001 cm3/(m2·24h), can test high barrier materials, such as aluminum foil.
2.By adding package-testing accessories, can test oxygen transmission of various containers such as bag, bottle, can and bowl.
3.By adding adaptive accessory, can expand upper limit of test range to 26000 cm3/m2•24h.
Calibration & Certification
The instrument supports two methods of reference materials and standard gas to certificate and calibrate; Operation is simple, user only need use certified reference materials for normal testing, and then input the test result into the instrument interface to complete calibration.
Reliable and easy-maintenance instrument
1.Imported oxygen sensor, with high precise and good performance, can work for a long time.
2.Sensor over-range auto protection.
3.Function modularization, easy to maintain.