N500 Gas Permeability Analyzer
Applied to:
1)Plastic film, composite film, aluminum foil, aluminized film,etc;
2)Sheet, panel, rubber, ceramics,etc;
3)Packaging containers, such as:glass, bottle, cans, boxes, etc;
4)Expanding application: solar panel, LCD film, contact lenses, medical patch, etc.
Widely used in quality inspection organizations, drug control institutions, research institutes, packaging, thin film, food companies, pharmaceutical enterprises, personal care industry, electronics industry and so on.
Specification
Item

Technical Parameters

Testing range

0.02~50000 cm3/(m2·24h·0.1MPa)

Max possibility by expanding the volume: 600000 cm3/(m2·24h·0.1MPa)

Test accuracy

0.001 cm3/(m2·24h·0.1MPa)

Temperature range

15~60℃

Temperature accuracy

±0.1℃

Vacuum degree

<20Pa

Vacuum resolution

0.01Pa

Test pressure

-0.1~+0.1MPa

Gas supply pressure

0.2~0.8MPa

Gas port

1/8 inch

Test gas

O2,Co2, N2, etc

Test area

50.24 cm2

Sample size

Φ110 mm

Sample thickness

≤2mm

Instrument size

1 piece

Instrument size

680mm×560 mm×340mm

Weight

70kg

Power

1000W

Power supply

AC 220V,50Hz
Standard:GB/T 1038-2000,ISO 2556-1974,ISO 15105-1-2007,ASTM D1434, YBB 00082003-2015,JIS K7126-1-2006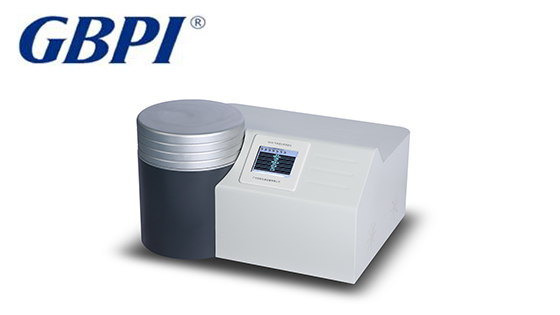 Features
Accurate and reliable data
With The State Certificate for Gradation of the certified Reference Materials andLicence for Manufacturing Measuring Instruments of the state Reference Materials(GBW(E)130541/2)of Gas Permeability Analyzer approved and issued by General Administration of Quality Supervision, Inspection and Quarantine of the P.R.C. Adopting state reference materials to calibrate and verify the instruments, data reliability up to 100%, with universal temperature and humidity calibration interface and test repeatedly, the dispersion of the same sample test data are less than 10%. Ensure the accuracy, universality and authority of test data.
Simple operation
1)Professional software with simple interface, easy to use and convenient to set test process.
2)Fully-auto operation, one-button test, judge and stop automatically.
3)Programmed auto-control, the experiment status display in real time.
4)Professional test report; can be exported as PDF.
Advanced technology
1)World's pioneer auto keep pressure difference technology, which can keep pressure difference of two sides of samples automatically (pressure can be adjusted).
2)Temperature control: International advanced electromagnetic technology, program controlled, automatic temperature rise and fall. Precision 0.01℃.
3)Carrying cutting-edge ARM controlling system, can run independently without computer.
High efficiency
1)One independent test chamber with an independent main sensor.
2)With three different test modes of high, medium and lower barriers, can test films with different barrier property.
3)Measurement precise up to 0.01 cm3/(m2·24h·0.1MPa), can test high barrier materials, such as aluminum foil.
4)By adding package-testing accessories, can test gas transmission of various containers such as bag, bottle, can and bowl.
5)Can expand upper limit of test range to 600000cm3/(m2·24h·0.1MPa).
Calibration & Certification
The instrument supports two methods of reference materials and standard gas to certificate and calibrate; Operation is simple, user only need use certified reference materials for normal testing, and then input the test result into the instrument interface to complete calibration.
Reliable and easy-maintenance instrument
1)Imported pressure sensor, with high precise and good performance, can work for a long time.
2)Sensor over-range auto protection.
3)Function modularization, easy to maintain.