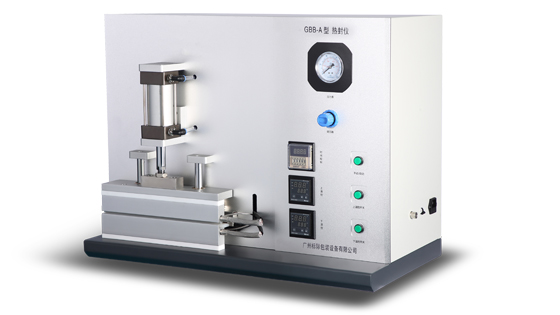 Technical Specifications
Item

Technical parameters

Temperature range

Room temperature~250℃

Temperature precision

±0.2℃

Seal time range

0.01s~99.99h

Pressure range

(0~1)Mpa

Heat seal area

300mm × 5.5mm, smooth surface;

(lower bar has silicone pad as buffer) ;other sizes can be customized

Heat seal method

two ways: automatic or manual,external air cylinder

Power supply

AC220V 50Hz

Instrument size

700mm × 400mm × 540mm
Standards
QB/T 2358-1998, ASTM F 2029, YBB00122003-2015
Features
1. Upper and lower heat seal bars have independent temperature control and setting.
2. Use compressed air, pneumatic drive.
3. Automatic and manual modes; use foot switch for manual mode.
4. GBB-A Heat Sealing Analyzer Can customize size, shape and smoothness of heat seal bar.
5. Can upgrade heat seal bar with anti-sticking function.