GBB-F Heat SealerTester Application
GBB-F Heat Seal Tester is to test the temperature, pressure, and time for heat sealing of various film materials. It is apply to quality inspection organizations, drug control institutions, research institutes, packaging, thin film, food companies, pharmaceutical enterprises, personal care industry and so on.
Standards
QB/T 2358-1998, ASTM F 2029, YBB00122003-2015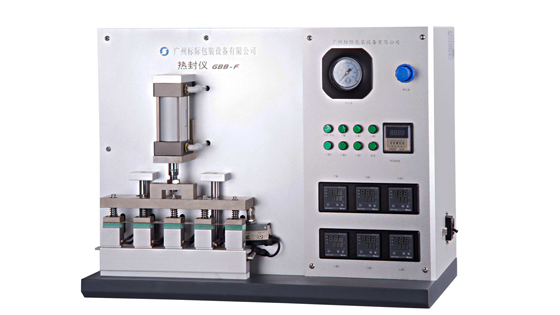 Features
1. Upper and lower heat seal bars have independent temperature control and setting.
2. Use compressed air, pneumatic drive.
3. Automatic and manual modes; use foot switch for manual mode.
4. Can customize size, shape and smoothness of heat seal bar.
5. Can upgrade heat seal bar with anti-sticking function.
6. Temperature calibration is simple.
Technical Parameters ofelectronic Heat Sealing Analyzer
Item

Technical parameters

Temperature range

Room temperature~300℃

Temperature precision

±1℃

Seal time range

0.1s~999.9 S

Pressure range

0.05~0.8Mpa

Heat seal area

Upper bar:35×10mm × 5 sections,

lower bar has silicone pad as buffer;(Can customize

all kinds of specifications)

Heat seal method

two ways: automatic or manual,external air cylinder

Gas source

Power

2000W

Power supply

AC220V 50Hz

Weight

55 kg

Instrument size

700mm × 400mm × 540mm
Configuration
A、Spare parts

NO.

Name

Remark

Quantity

1

Power cable




3*0.75 10A 1.8 M

1 PC




Foot switch

FS-1

1 PC

3

Allen wrench




1 PC

4

Cross screwdriver

6-10mm

1 PC

5

Wooden box




1 PC

6

Keys




1 PC

B、Optional parts

NO.

Name

Unit

Quantity

Remark

1

Metrology Certificate







Optional

2

Air compressor







Optional

C、User provide

1

Power supply 500w 220V 10A three holes socket ground wire

2

Air source(such as air compressor)specification 2.5HP、8KG pressure

3

High-pressure air pipe(Φ8mm plastic pipe)

4

Air filter(filter dust, filter oil, filter water)