Test Principle
Y310LOxygen Permeability Analyzer is designed and manufactured based on the coulometric sensor method.The pre-conditioned specimen is clamped in the test cell, oxygen or air flows on one side of the specimen while a stream of high purity nitrogen flows on the other side. Oxygen molecules permeate through the specimen into the nitrogen side and are carried to the coulometric sensor. The sensor analyzes the oxygen concentration and calculates the oxygen transmission rate.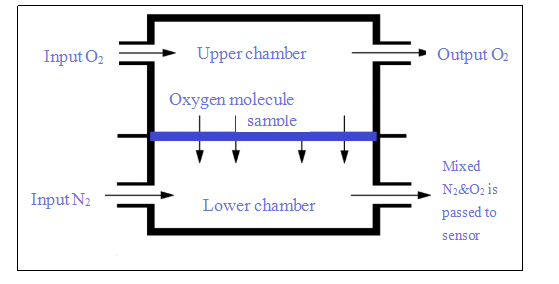 Schematic diagram for Coulometric sensor method
Standards
ASTM D3985,ASTM F2622,ASTM F1927,ASTM F1307,ISO 15105-2,DIN 53380-3,JIS K-7126-B
Specification
| | |
| --- | --- |
| Item | Technical parameter |
| Test range | 0.05~1000 cm³/(m²·24h·0.1MPa),Through the largest measurable area260000 cm³/(m²·24h·0.1MPa)) |
| Resolution | 0.0001 cm³/(m²24h·0.1MPa) |
| Test temperature | 15~45℃ |
| Temperature control accuracy | ±0.2℃ |
| Humidity range | 0%RH,5~90%RH,100%RH |
| Humidity Control Accuracy | ±2%RH |
| Permeable area | 50.24 cm²(Customized adapters from0.785 cm²) |
| Sample size | Φ100 mm |
| Sample thickness | ≤3 mm |
| Sample quantity | 3pcs |
| Carrier gas pressure | ≥0.1 MPa |
| Carrier gas flow | 5~100 mL/min |
| Dimension | 700 mm×655 mm×535 mm |
| Power | 750 W |
| Power supply | AC 220 V,50 Hz |
Features
1)High precision oxygen sensor
High-precision imported oxygen sensor with high sensitivity, ultra-high stability and ultra-low failure rate, with a resolution of 0.0001 cm³/(m²·24h·0.1MPa).
2)The test data is accurate and reliable
Precise control of test temperature and humidity. Equipped with high-precision temperature and humidity sensors, the temperature and humidity of the test chamber are stable, and the temperature control is precise
The temperature can reach 0.2℃, and the humidity can be accurate to±2%RH.
Automatic test mode, real-time monitoring of temperature, humidity, gas flow valuesand curves during the test process, high test repeatability.
3)Independent three-chamber design, high test efficiency
The instrument is equipped with 3 chambers, each of which has a standard area of50.24cm2, which can meet the standard test requirements of three parallel samples, and the test efficiency is high.
It supports simultaneous testing of three identical or different samples, and the test data are independent of each other.
The measurement range is 0.05~1000 cm³/(m²·24 h·0.1 MPa), and the measuring range is wide, meeting the testing requirements of high, medium and low barrier materials. With the addition of adapter accessories, it can measure the oxygen transmission rate of bottles, bags, bowls and other containers.
Application
| | | |
| --- | --- | --- |
| | film | Various plastic films (PP/PET/PE/PVC/BOPP/CPP, etc.), plastic composite films, paper-plastic composite films, metal composite films, co-extrusion films, aluminized films, degradable packaging films (PLA/PBAT/PBS) etc.) |
| | sheet | Oxygen transmission rate test of solid pharmaceutical hard sheet (PP/PVC/PTP, etc.), metal composite sheet, rubber sheet and other sheet materials |
| | Medicinal stickers, warm stickers | Oxygen permeability test of medical plaster therapy patch, warm patch, dysmenorrhea patch and other patches |
| | hygiene products | Oxygen transmission rate test for sanitary napkins, pads and other sanitary products |
| | Paper, cardboard and their composites | Oxygen transmission rate test of paper and cardboard such as coated paper, carbon paper, silicone paper, aluminized paper, paper-aluminum-plastic composite sheet, etc. |
| | package | Wine bottles, cola bottles, peanut oil barrels, Tetra Pak packaging, vacuum packaging bags, three-piece cans, cosmetic packaging, toothpaste tubes, jelly cups, yogurt cups and other plastic, rubber, paper, paper-plastic composite, glass, metal bottles ,Oxygen transmission rate test of bags, cans, boxes, barrels |
| | packagecover | Oxygen permeation performance testing of various package closures |
| | solar back sheet | Oxygen transmission performance test of solar back sheet |
| | pipe | Oxygen permeability test of pipes of various materials such as PPR pipes |