Testing Principle
Y110 2.0 Oxygen Transmission Rate Tester adopts the principle of Coulometric sensor method. The pre-processed sample is fixed in the middle of the test chamber, while high-purity oxygen flows in the upper chamber of the film, high-purity nitrogen (carrier gas) flows in the lower chamber, oxygen molecules diffuse through the film to the nitrogen on the other side, and the flowing nitrogen gas is carried to the sensor, and the oxygen transmission rate is calculated by analyzing the oxygen concentration measured by the sensor.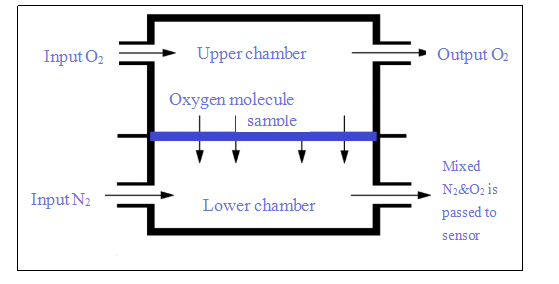 Schematic diagram for Coulometric sensor method
Standards
GB/T19789、YBB00082003、ASTM D3985、ASTM F2622、ASTM F1927、ASTM F1037、ISO 15105-2、JIS K-7126-B、DIN 53380-3
Specification
| | |
| --- | --- |
| Item | Technical Parameters |
| Test range | 0.02~16500 cm3/(m2·24h)(customized maximum 260000 cm³/(m2·24h)) |
| Resolution | 0.001 cm3/(m2·24h) |
| Temperature range | 15~45℃ |
| Temperature accuracy | ±0.1℃ |
| Humidity range | Dryness=0%RH,30~90%RH,100%RH |
| Humidity accuracy | ±1%RH |
| Test area | 50.24 cm2(minimum 0.785 cm2 optional customization) |
| Sample size | Φ100 mm |
| Sample thickness | ≤3 mm |
| Number of samples | 1piece |
| Carrier gas pressure | ≥0.1 MPa |
| Gas supply port | Φ3 mm gas port |
Features
Patented core technology, efficient and accurate testing
High-precision imported oxygen sensor with high sensitivity, ultra-high stability and ultra-low failure rate, with a resolution of 0.001 cm3/(m2·24h).
The new pneumatic pneumatic control system, automatic clamp clamping the sample, convenient and labor-saving, excellent sealing performance.
Adopt international advanced electromagnetic temperature control technology, automatically control the temperature rise and fall, and the temperature control accuracy is 0.1 ℃.
Meet the test requirements of wide range and high applicability
The instrument is equipped with a single cavity, which is compact and flexible, and has high test efficiency
The measurement range is 0.02~1000 cm3/(m2·24 h·0.1 MPa), and the measurement range is wide, which can meet the testing requirements of high, medium and low barrier materials. With the addition of suitable accessories, it can measure the oxygen transmission rate of containers such as bottles, bags, and bowls.
Application
| | | |
| --- | --- | --- |
| | Film | Various plastic films (PP/PET/PE/PVC/BOPP/CPP, etc.), plastic composite films, paper-plastic composite films, metal composite films, co-extrusion films, aluminized films, degradable packaging films (PLA/PBAT/PBS) etc.) Oxygen transmission rate test of film-like materials |
| | Sheet | To test Oxygen transmission rate of solid pharmaceutical hard sheet (PP/PVC/PTP, etc.), metal composite sheet, rubber sheet and other sheet materials |
| | Medicinal stickers, warm stickers | To test Oxygen permeability of medical plaster therapy patch, warm patch, dysmenorrhea patch and other patches |
| | Hygiene products | To test Oxygen permeability of sanitary napkins, pads and other sanitary products |
| | Paper, cardboard and composites | To test Oxygen permeability of coated paper, carbon paper, silicone paper, aluminized paper, paper-aluminum-plastic composite sheet and other paper, cardboard |
| | Package | To test Oxygen permeability of wine bottles, cola bottles, peanut oil barrels, Tetra Pak packaging, vacuum packaging bags, three-piece cans, cosmetic packaging, toothpaste tubes, jelly cups, yogurt cups and other plastic, rubber, paper, paper-plastic composite, glass, metal bottles , bag, can, box, barrel |