W360 Water Vapor Permeability Analyzer
Working Principle for water vapor transmission rate tester
Gravimetric method. Hold distilled water in cup, seal the cup with test sample (not contacts water); put the cup and desiccant device in closed test chamber; in certain temperature condition, the water evaporates and the humidity inside the cup remains high (98-100%RH); as outside the cup it remains dry (0-8%RH) by desiccant, the water molecules penetrate through the sample from inside the cup to outside, and absorbed by the desiccant; then the cup weight will decrease; system weigh the decreasing cup weight so as to calculate the water vapor transmission rate.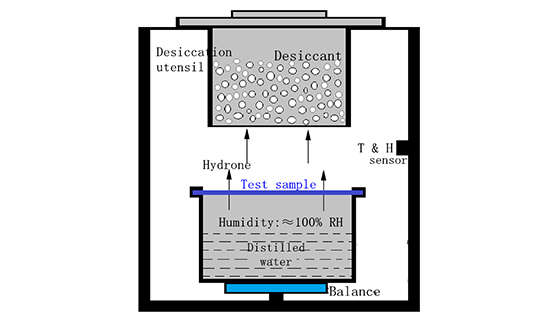 Standards
ASTM E96, ASTM D1653, ISO 2528, DIN 53122-1, JIS Z0208, and GB/T 1038
Features
1. One test chamber, six work stations, each with independent test data and test report; can test six samples at the same time; six work stations intermittent weighing in turn.
2. High precision sensor, continuous weighing and data acquisition.
3. Wholly automatic test, auto judgment, auto stop.
4. With software, control by computer.
5. Built-in operation system, Windows style interface, can test independently without computer.
6. True color LCD screen, real time display test data and working status; make setting and control by mouse operation and input values by soft keyboard, convenient to use.
7. Can adjust temperature; advanced electromagnetic temperature control technology, program controlled, automatic increase and decrease; integrated design, no external accessory installed; precision 0.1℃.
8. Self protection: sensor over range protection, auto save data when power cut off, wrong operation warning.
9. High test precision can test high barrier material such as aluminum foil.
10. Excellent environmental suitability, not affected by environment temperature.
Specifications
| | |
| --- | --- |
| Test range | 0.01~10000 g/(m2·24h) |
| Test precision | 0.001 g/(m2·24h) |
| Temperature range | 10~50℃ |
| Temperature precision | ±0.1℃ |
| Humidity range | Dry method: 0~20%RH; Optional—double gas flow humidity method: 30~90%RH |
| Test area | 28.27 cm2 |
| Sample size | Φ72 mm |
| Sample number | 1~6 pcs (each sample is independent) |
| Sample thickness | ≤2mm |
| Instrument size | 650mm× 580mm× 490mm |
| Power | 500W |
| Power supply | AC 220V 50Hz |